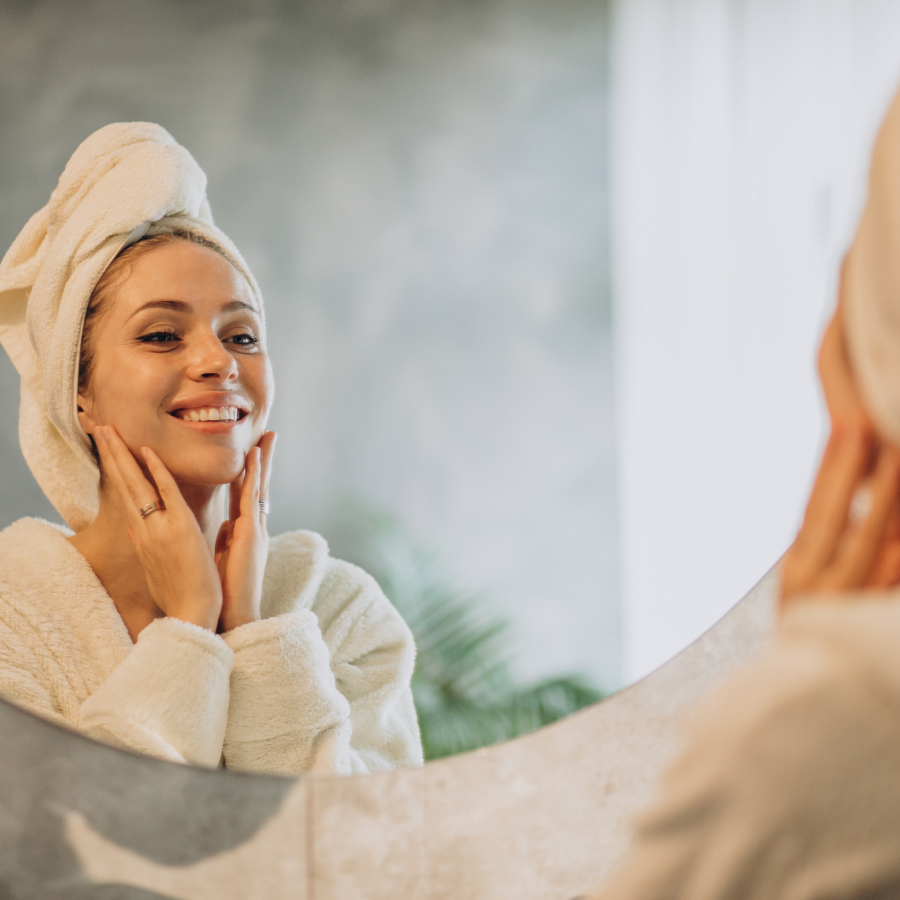 How to Brighten Skin? 4 Skin Brightening Tips to be Considered
Skin lightening and skin brightening are not the same things. The goal is not to lighten the skin's tone but rather to make it appear more vibrant and radiant.
The term "dull skin" refers to a lacklustre complexion. Dull skin can be caused by various things, including harmful skin brightening products, seasonal changes or unhealthy habits like smoking, or drinking alcohol.
Wondering about how to brighten skin. Check out these skin brightening tips to make your skin more radiant.
What Causes Dull Skin?
The skin is constantly removing old, dead cells. The outer layer of skin completely replaces itself every four weeks. When dead skin cells build up on the skin's surface, it can appear dull. It can also lose its glow if the skin is dehydrated.
Dead skin cells must be removed, and water reabsorbed to improve the appearance of dull skin.
How To Brighten Skin
Some people find that using makeup to lighten their skin tone is an effective method. On the other hand, cosmetics only give you a glimmer for a brief time. Focus on the skin care if you want the best results.
The following skin brightening tips and dermatological procedures may be used to improve your appearance of the skin.
Exfoliating To Eliminate Dead Skin Cells And Promotes New Skin Growth
It's a procedure that removes dead cells and encourages the growth of new, healthy skin cells. Skin appears brighter when it is exfoliated until it is smooth and polished.
Physical and chemical exfoliating methods can be used to remove dead skin cells. Mechanical exfoliation, also known as physical exfoliation, is a technique in which dead skin cells are removed from the face by hand. In the meantime, however, in chemical exfoliation, the affected area is scrubbed with a topical cleanser like one made of sugar or charcoal.
According to a person's skin type and the method used to remove dead skin cells, the frequency of exfoliation is determined by how often they exfoliate and how much oil they produce in their deeper layers.
Gentle chemical exfoliators may be better for people with sensitive skin, while oily skin may necessitate more aggressive exfoliation methods. People of colour should avoid harsh chemical exfoliation. This exfoliation can cause skin spots after a burn, a bug bite, or an acne breakout.
After exfoliating, people should always use a moisturizer to keep their skin from drying out.
Moisturizing To Refills The Skin's Water Reserves
Moisturizing replenishes the skin's water reserves & also creates a second layer of protection for the skin, keeping it safe from the exterior environment. Extreme weather can cause dullness, so moisturizing is a good way to counteract this effect.
Whether you have dry, oily, or combination skin, a person's skin type, the amount, frequency, and type of moisturizer you need will vary depending on your skin type.
Certain body parts, such as the lips, feet, and face, are targeted by specific products in each skin category. Moisturizing lotions, ointments, and body butter are all examples of products that can be used.
Face Rollers To Help Improve Circulation And Minimize Puffiness
A facial roller is explicitly made for this area of the body. This is since they can improve the skin's brightness by increasing blood flow and decreasing puffiness.
A person can use a face roller to emphasize facial structure by starting at the centre of the face and working outward.
Laser Resurfacing For Dead Skin
Skin tone and texture can be improved with dermatological laser resurfacing. Dead skin cells can be removed using laser resurfacing. Laser beams penetrate the skin with the help of thermal energy to stimulate collagen production and aid cell regeneration to repair damaged skin. The most common outcome is glowing, rejuvenated skin.
Foods That Can Help Brighten Your Skin
Eating healthy & nutritious food is also one of the skin brightening tips. Nutrients such as vitamins can help brighten the skin and dark spots. Three vitamins stand out above the rest when it comes to lightening black spots: vitamins C, B12, and E.
Some of the following skin brightening foods are-
Lemons
Lemon is a good source of vitamin C. Vitamin C aids in the production of collagen and inhibits the formation of melanin in the skin. Lemon & lemon water are common skin brightening foods that have antioxidant ascorbic acid & detoxifying properties. Eating them can prevent free radicals & also be beneficial in limiting skin damage and aging.
Tomates
Red fruit tightens and brightens skin, giving your skin a natural glow by producing collagen.
Strawberries
Strawberries are a superfood that contains more vitamin C than an orange, making them a skin-saving liquid gold. Vitamin C is essential for collagen formation, enhancing skin elasticity and suppleness.
Avocado
Aged, wrinkled skin is history. Avocados' healthy fats minimize skin irritation and preserve hydration. Also, they are high in antioxidants.
Eggs
Eggs are a healthy superfood that helps in protecting the skin from UV damage. They also include amino acids and antioxidants lutein and zeaxanthin, which help regenerate skin cells.
Pineapples
Pineapples include enzymes that diminish age spots and fine wrinkles and soften skin. You can also massage it on your skin.
Garlic
Garlic is a powerful antibiotic. It cleans your blood, removing pollutants that might clog your skin, making it essential for acne sufferers. Additionally, its antioxidant properties help in slow aging.
Spinach
This green leaf is whole with skin-boosting beta-carotene. So eating spinach regularly can help treat dry, irritated skin and give you a smoother, more vibrant complexion.
Noni (Indian Mulberry)
It's a weird-looking fruit, yet its white and yellow flesh has medicinal qualities for the skin. Health food stores sell this as juice or powder in tablets.
Skin Brightening Products (H3 tag)
Skin brightening products that brighten the complexion may be harmful if you are not careful. The best skin brightening product is hydroquinone. Dull skin may benefit from the use of a hydroquinone-containing cream. On the other hand, the FDA has not approved it because of the uncertainty regarding its safety.
In addition, collagen is more effective at repairing skin problems that lie beneath the surface. For example, YourHappy Collagen (Fizz) can aid to increase the plumpness of skin & also help to give you glowing complexion by addressing skin concerns such as acne.
Correct skin-brightening tips and dietary sources may be the ideal way to restore your skin's beauty and radiance. When used correctly, the ideal strategy can help your skin regain its former suppleness.