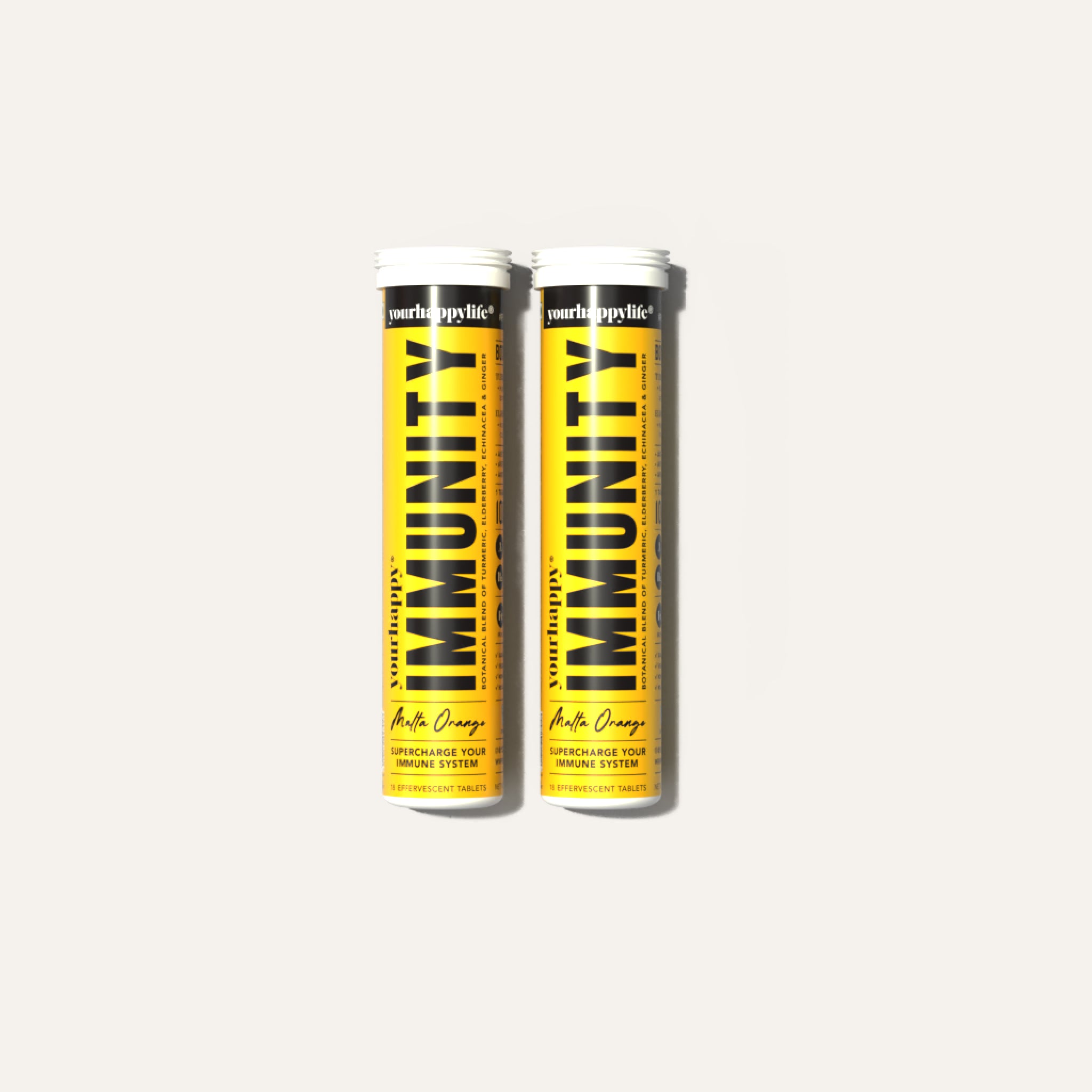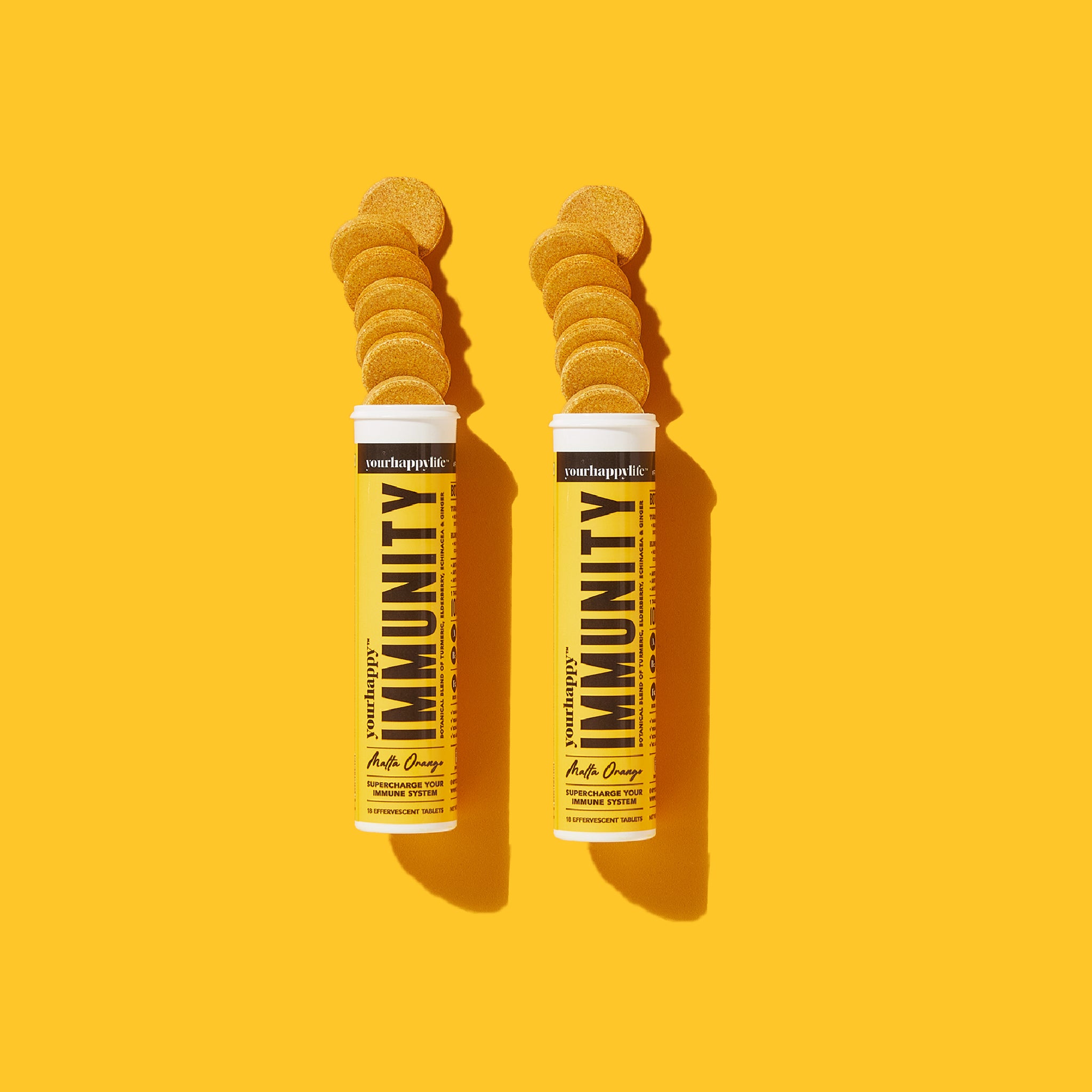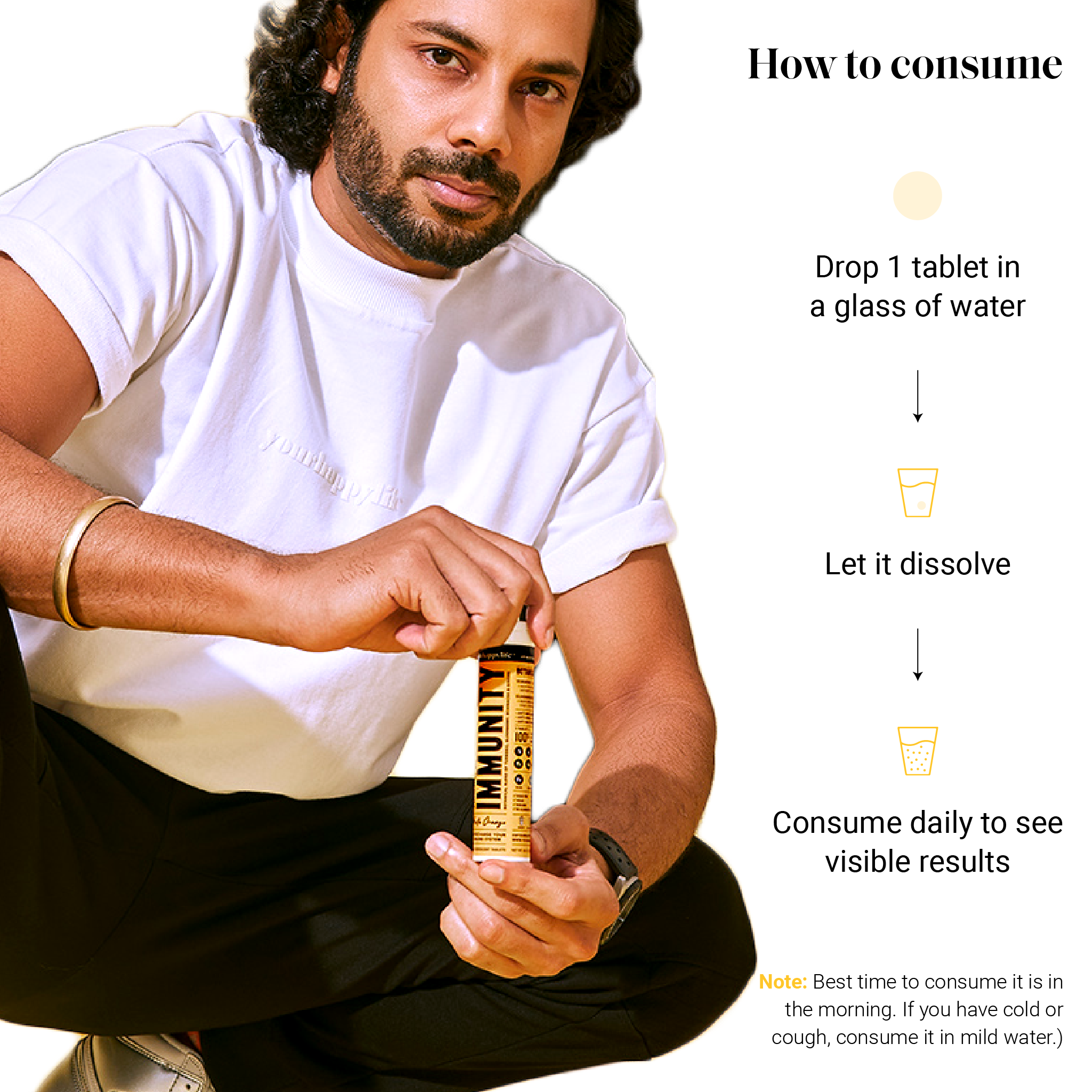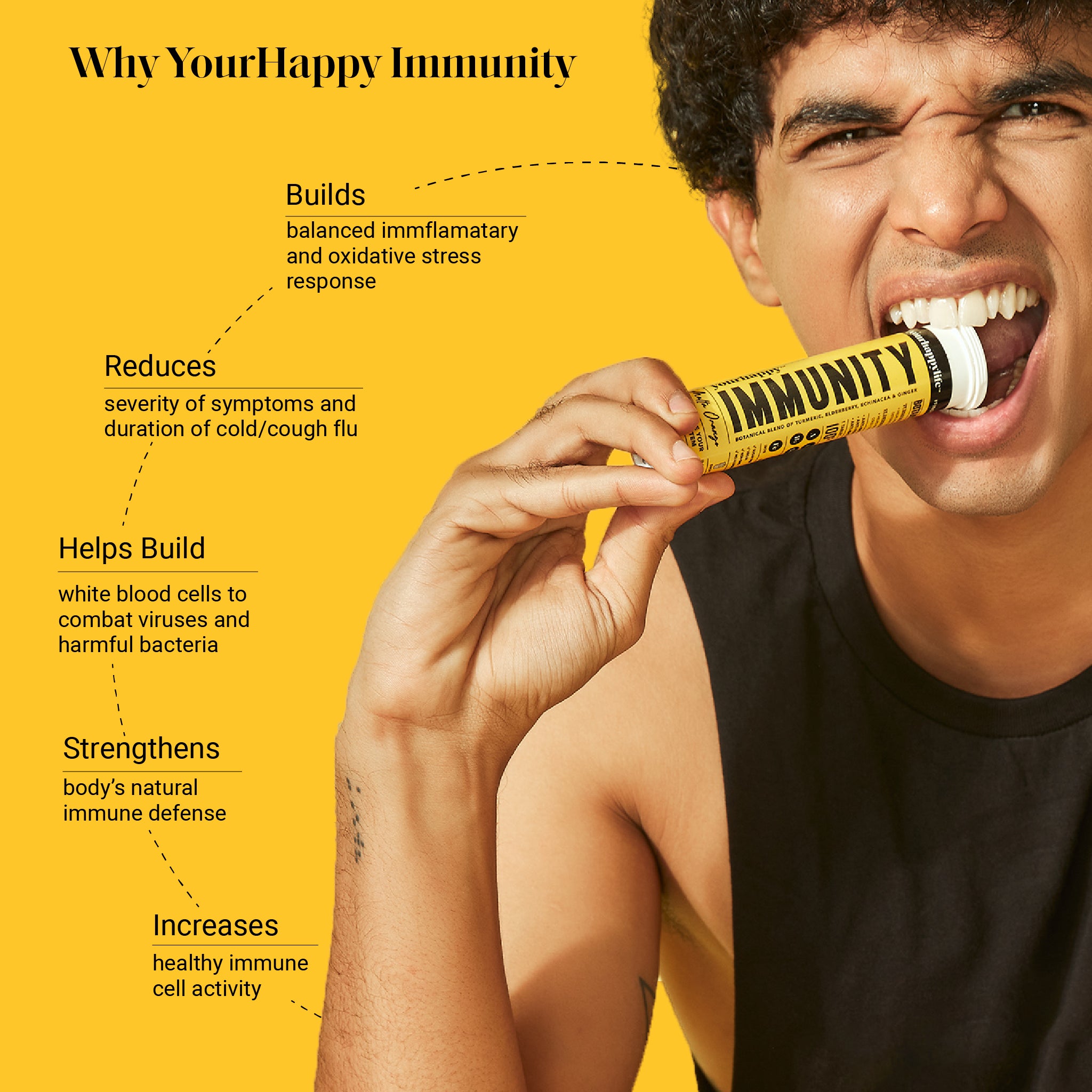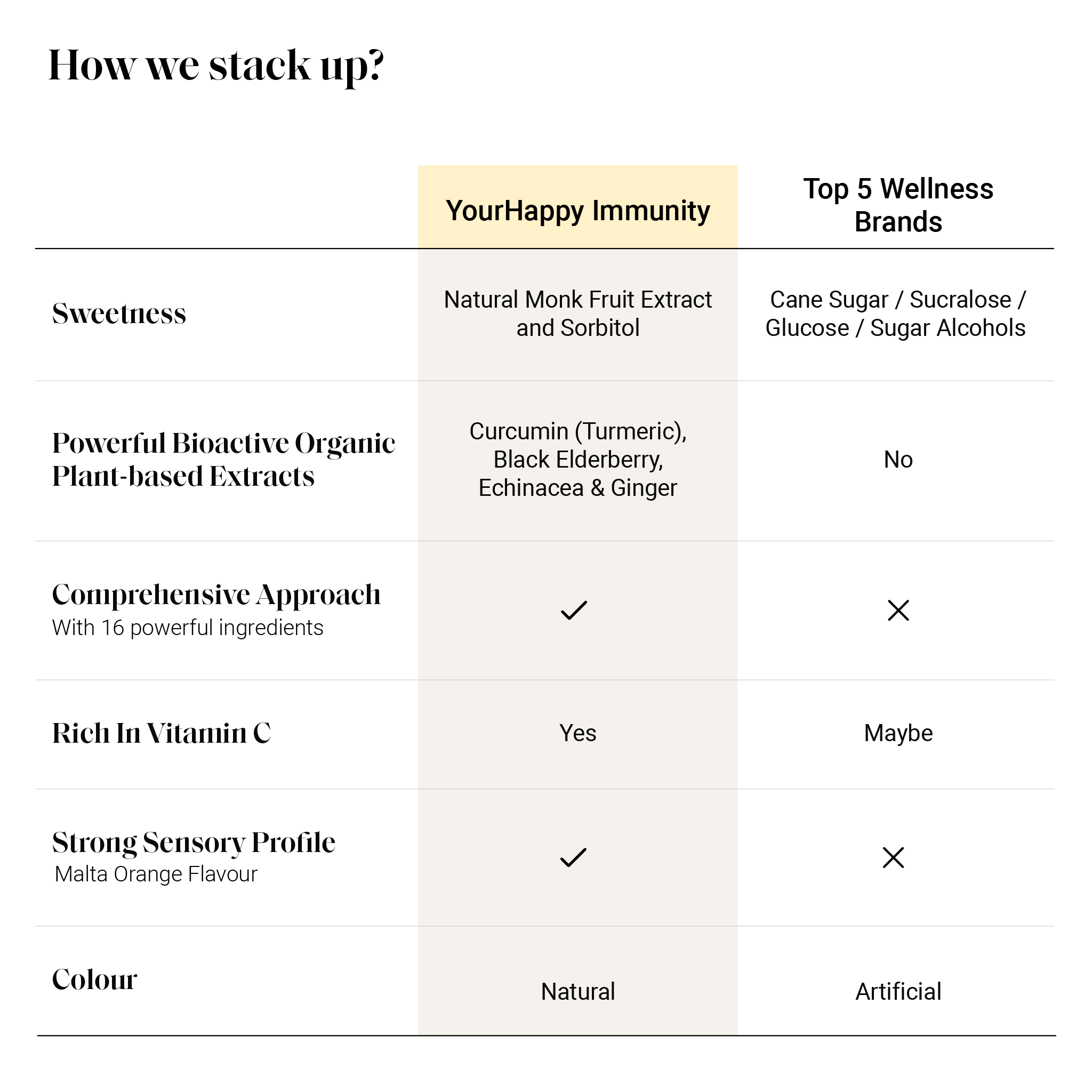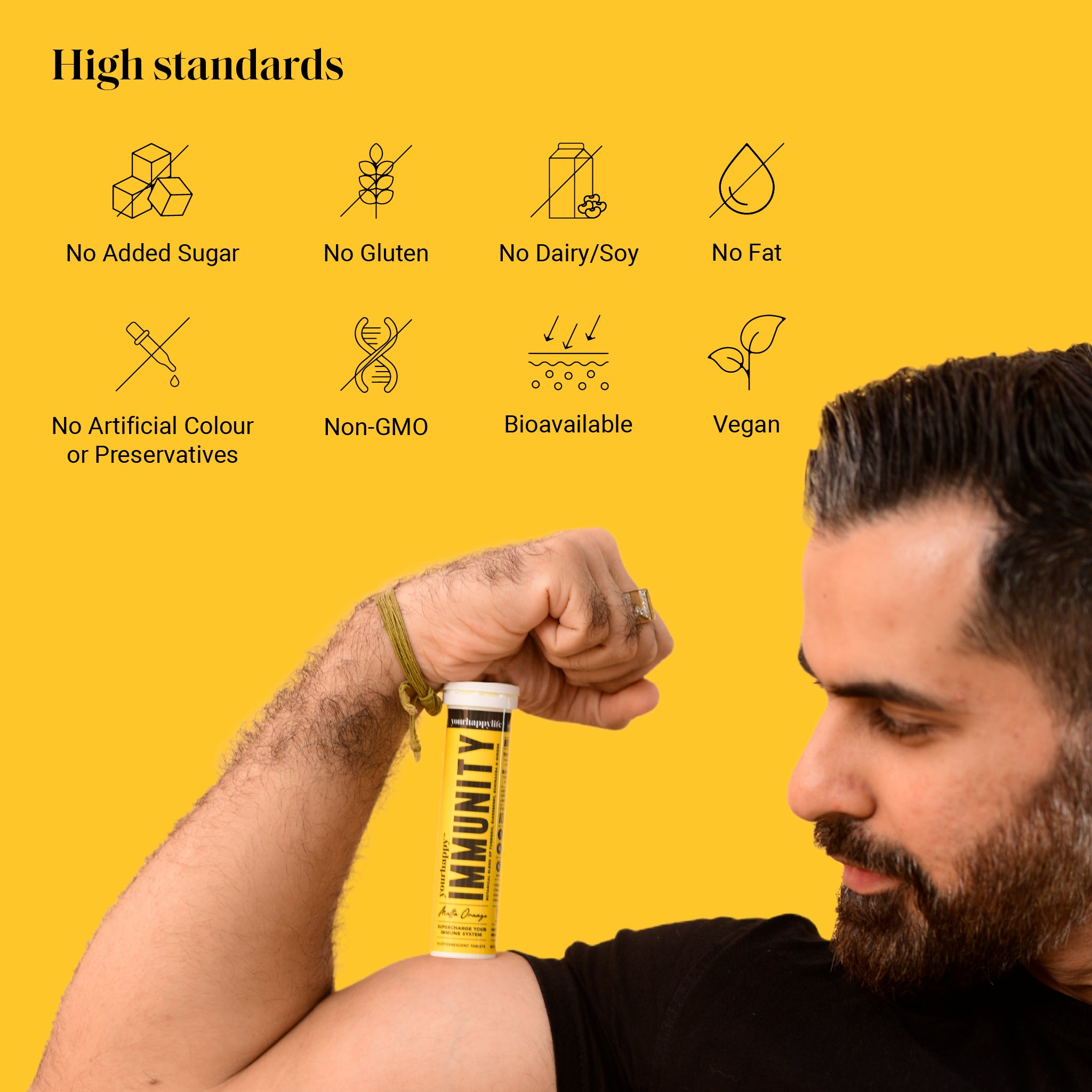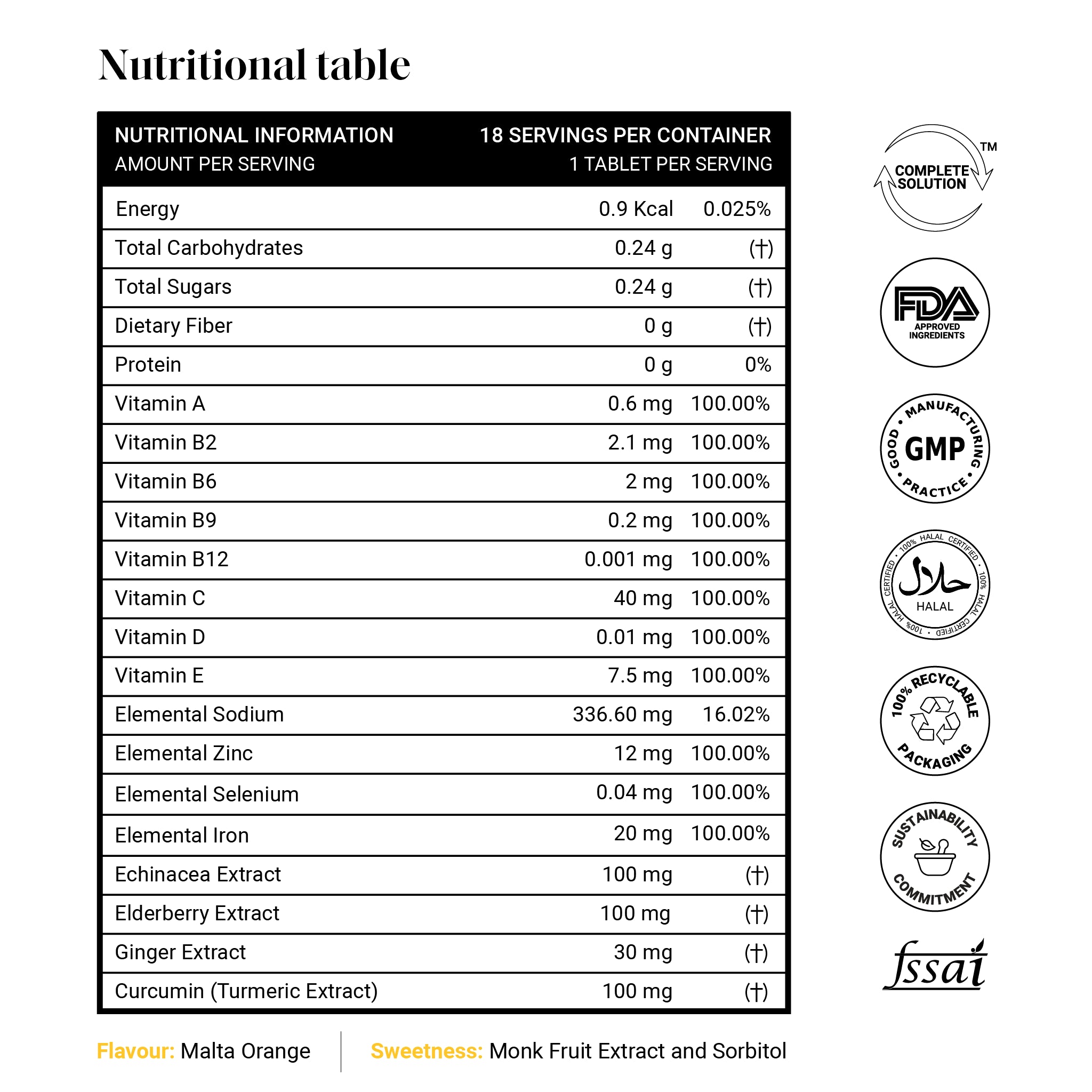 YourHappy Immunity (Fizz)
Supercharge Your Immune System
Multivitamin+ for adults with clinically proven ingredients designed to strengthen & protect the body's defenses against viruses, bacteria and stress related illnesses. Powerful Botanical Blend (Turmeric - Curcumin Extract, Black Elderberry, Echinacea & Ginger) plus 100% Daily Requirement of Vitamins & Minerals for the Immune system, provides you the support needed to help combat illnesses such as cold/cough/flu, inflammation and to help your body recover faster.
IMMUNE SYSTEM
COMBATS VIRUSES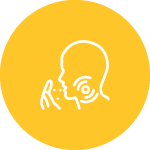 COLD/COUGH RECOVERY
MEMORY & FOCUS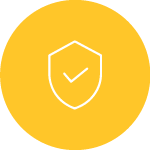 DAILY WELL BEING
CLEAN ENERGY

Malta Orange Flavour
Sale price

Rs. 569.00
Regular price

Rs. 799.00
(/)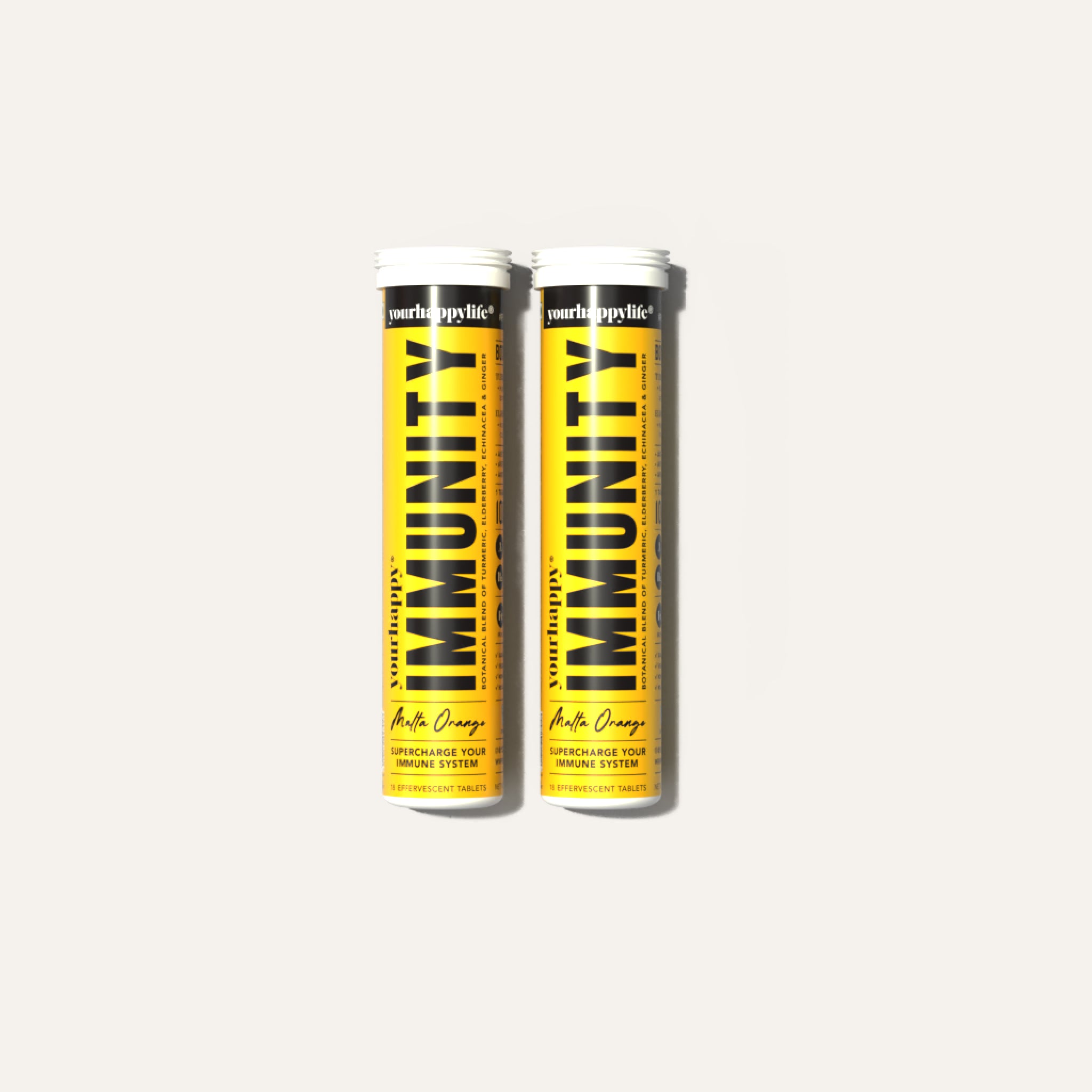 YourHappy Immunity (Fizz)
Sale price

Rs. 569.00
Regular price

Rs. 799.00
Choose options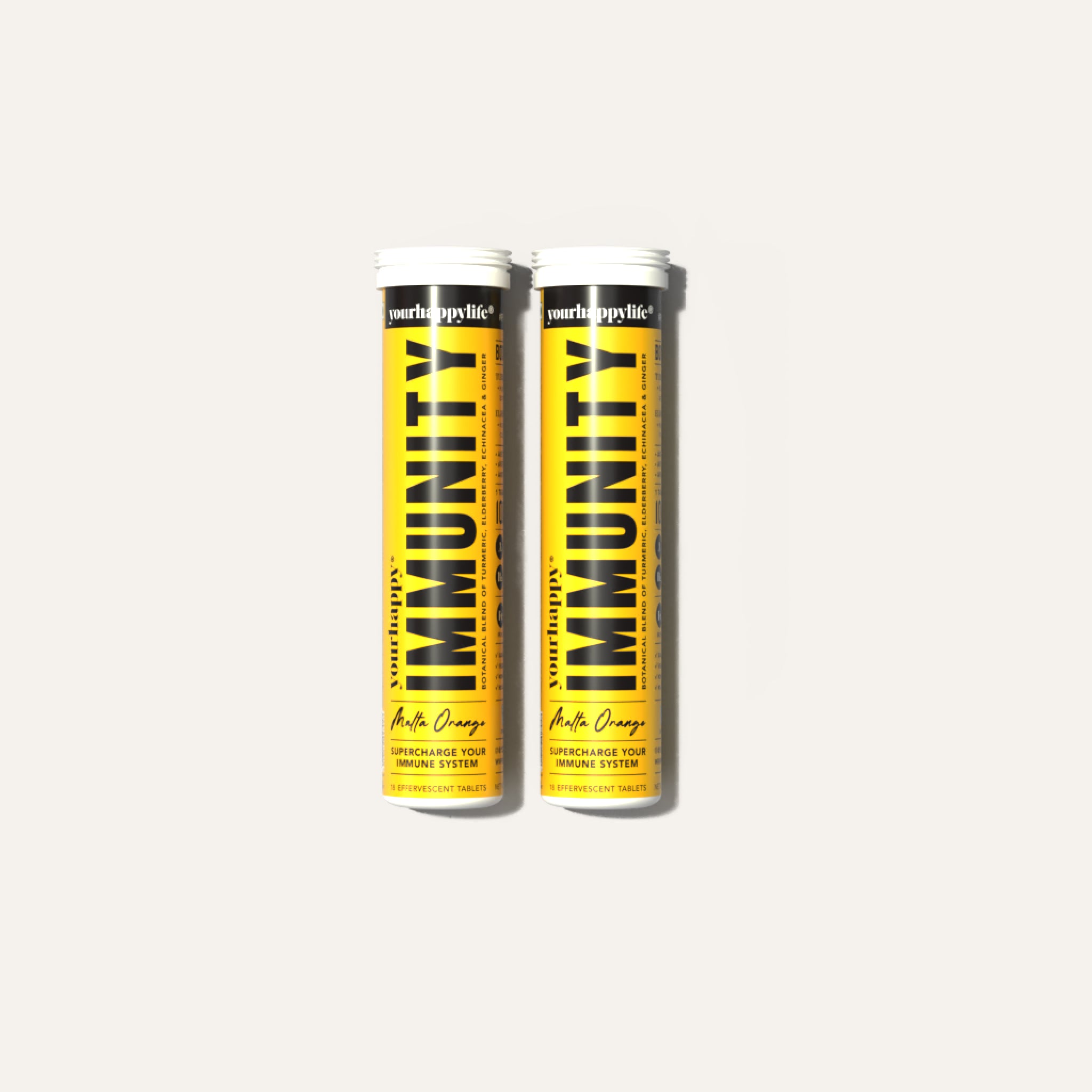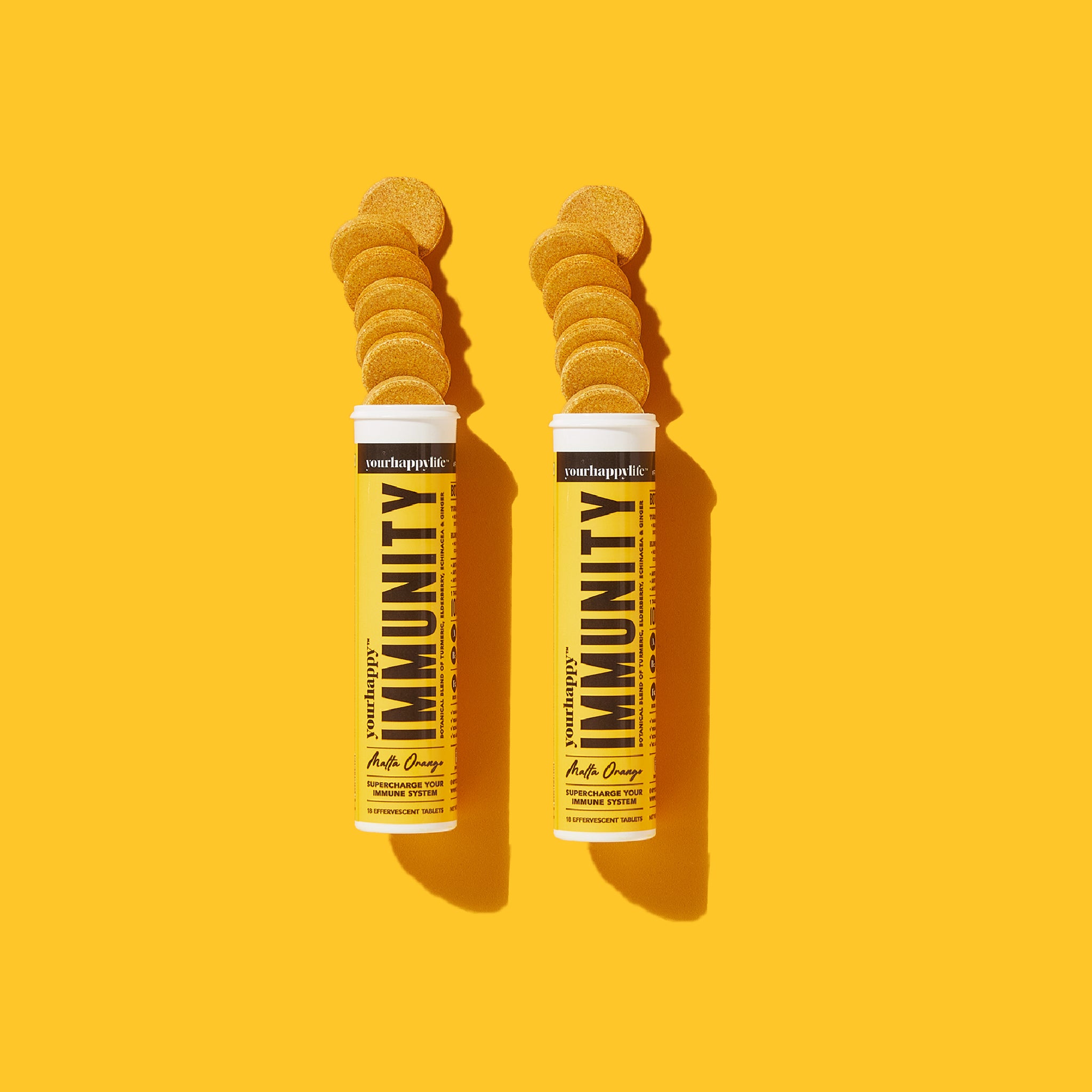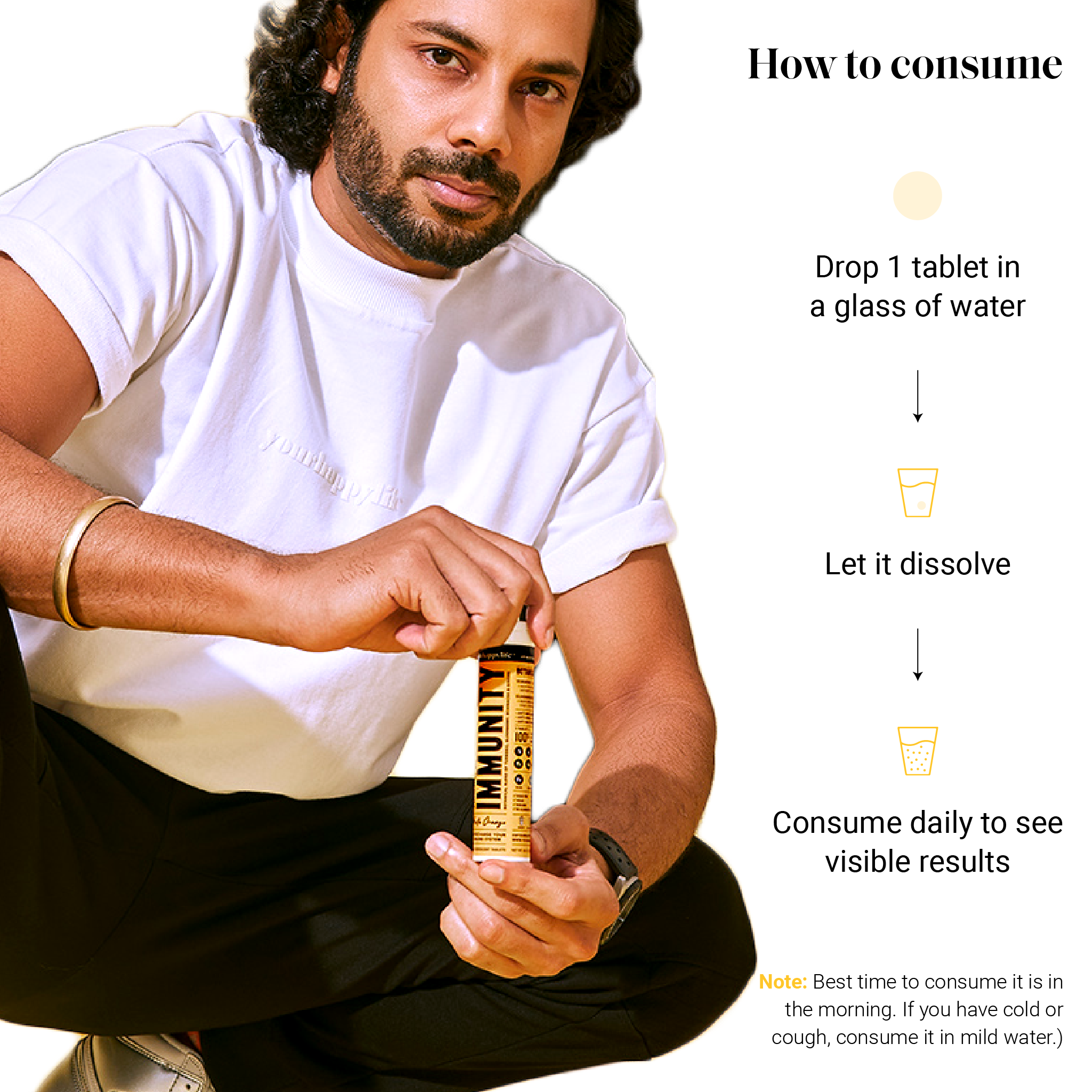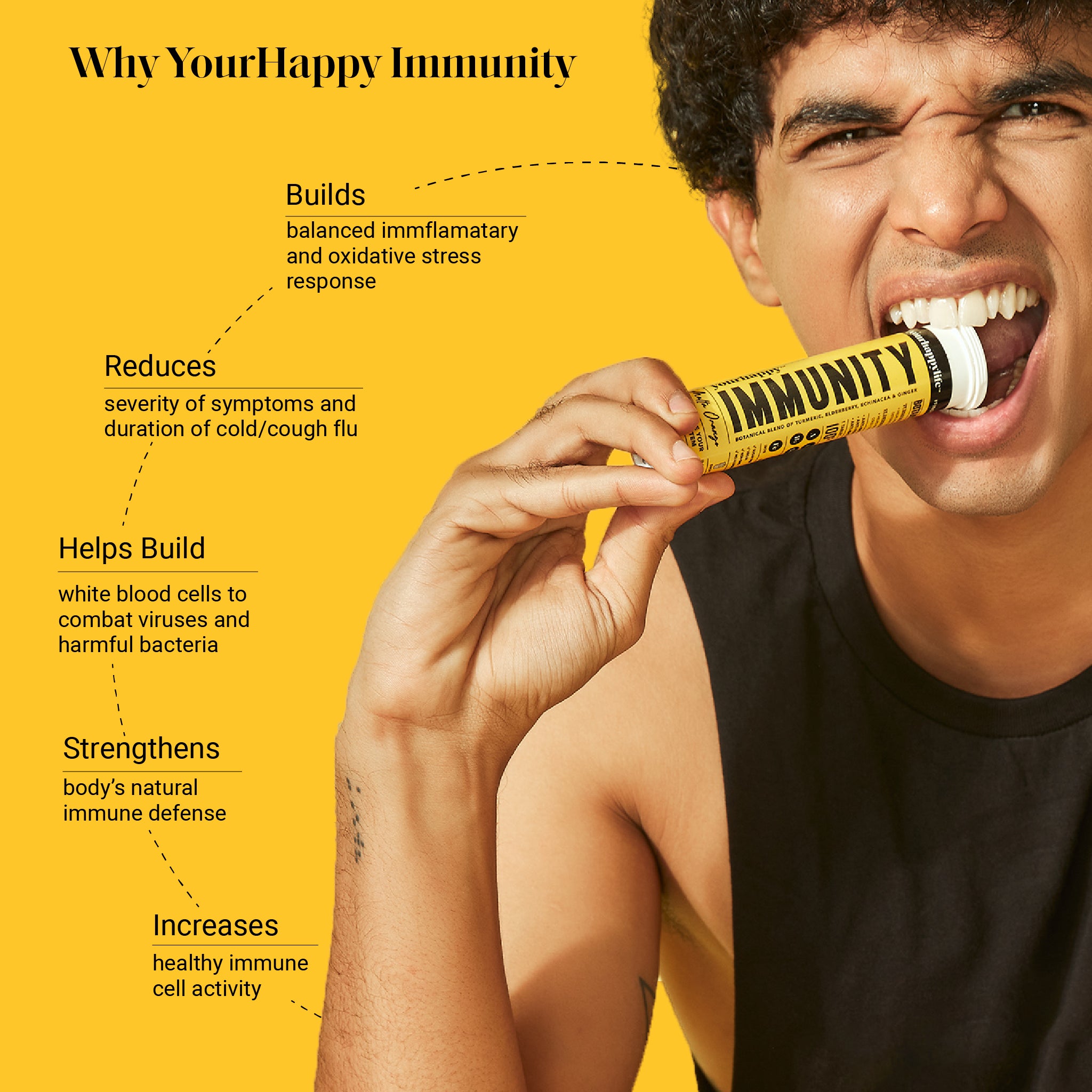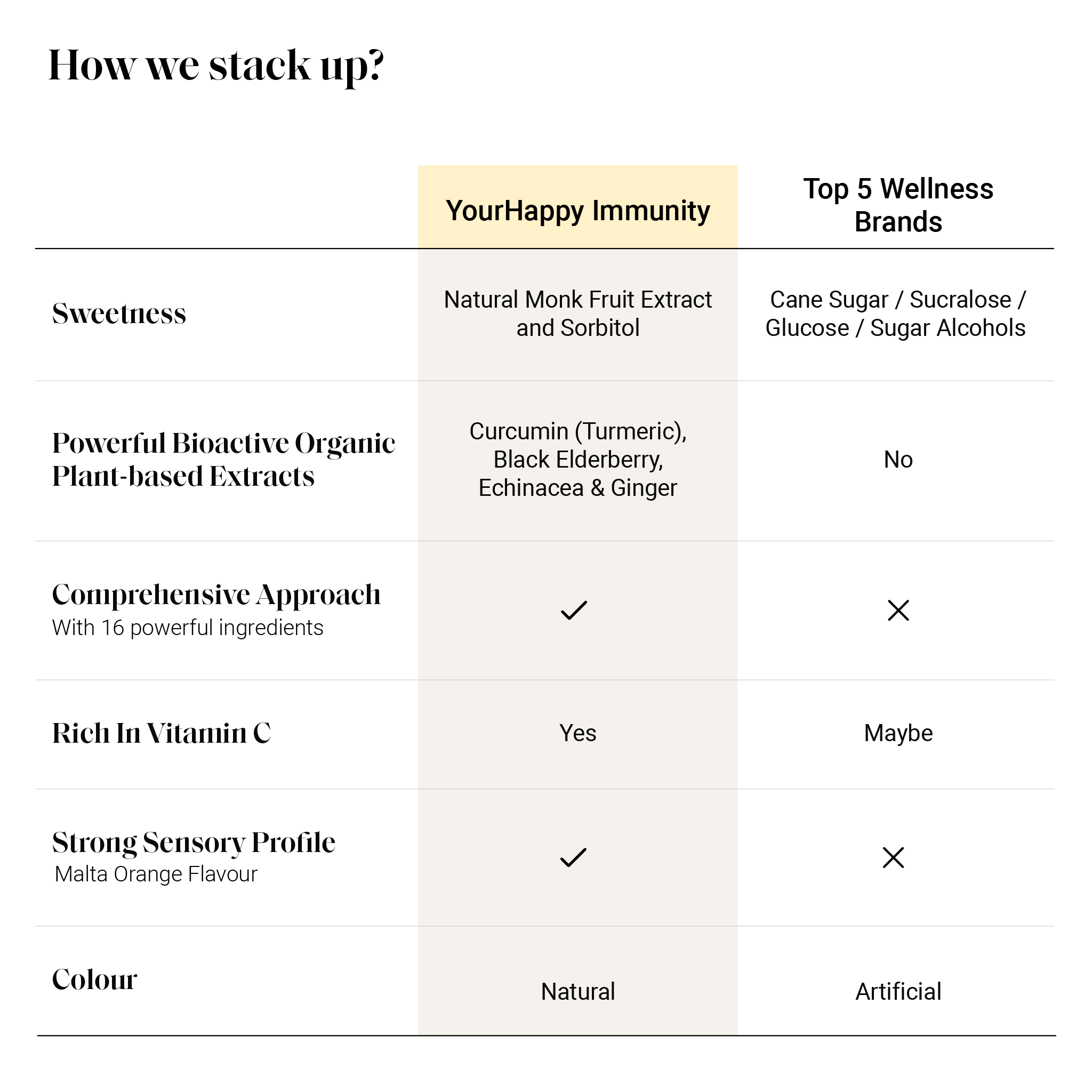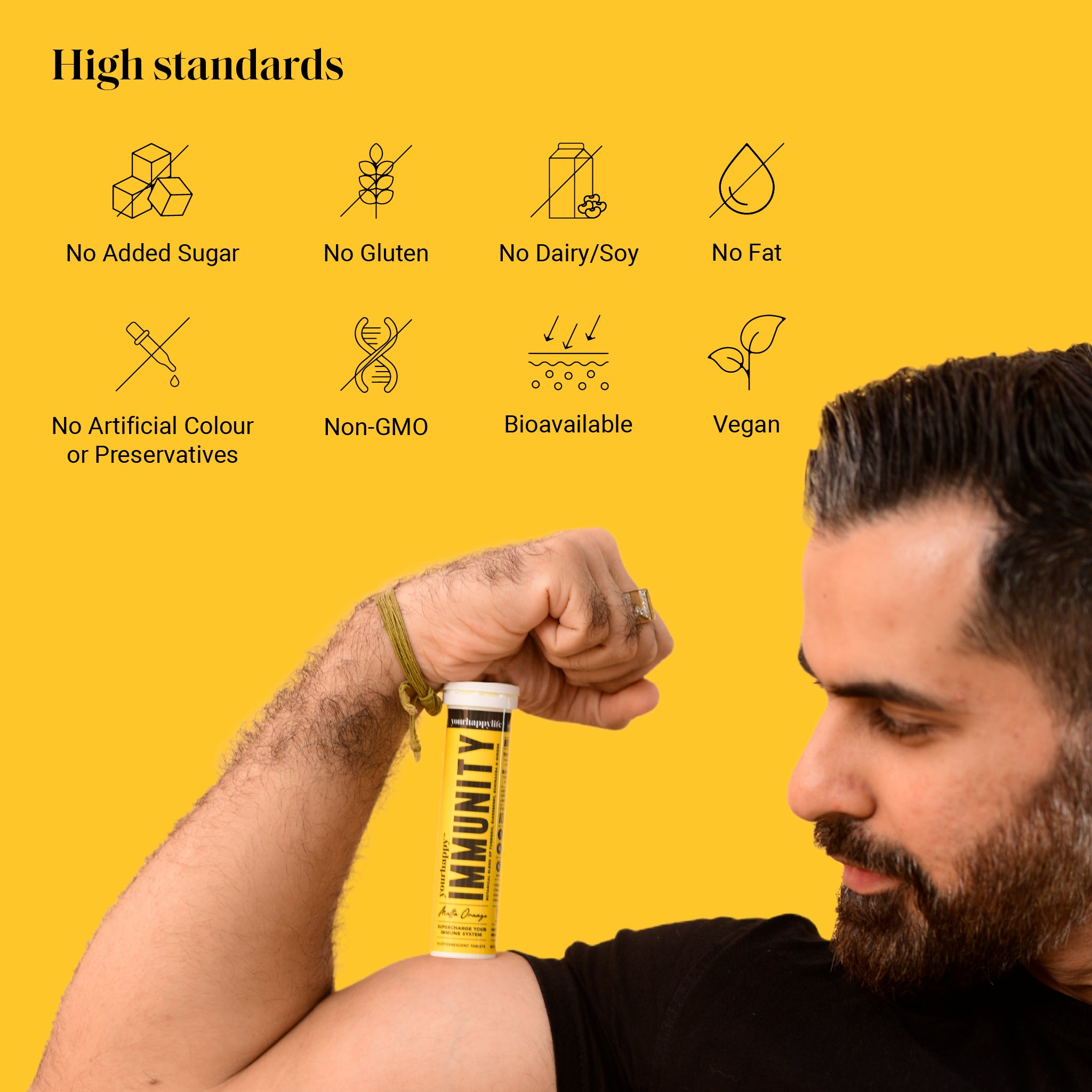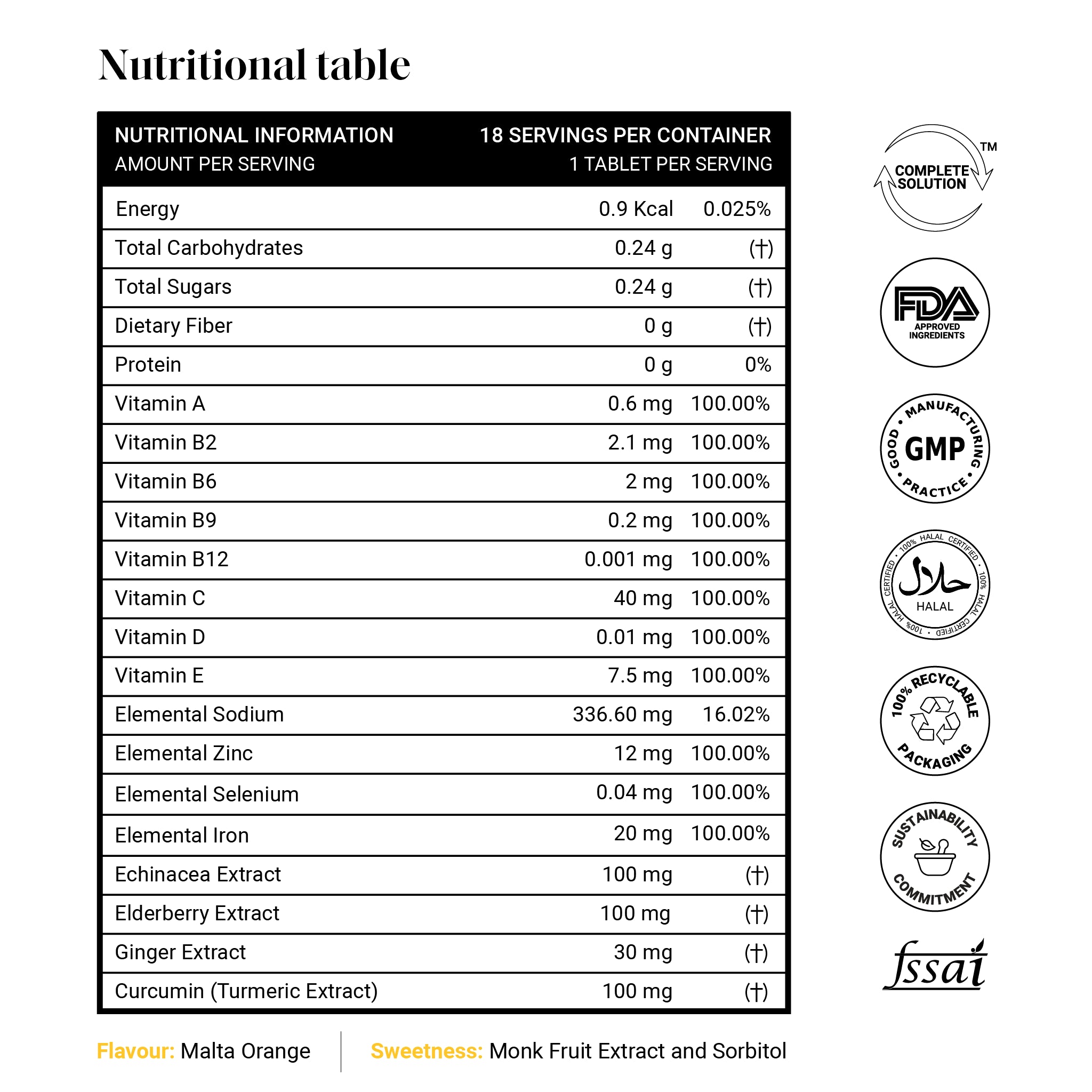 Sale price

Rs. 569.00
Regular price

Rs. 799.00
(/)
View details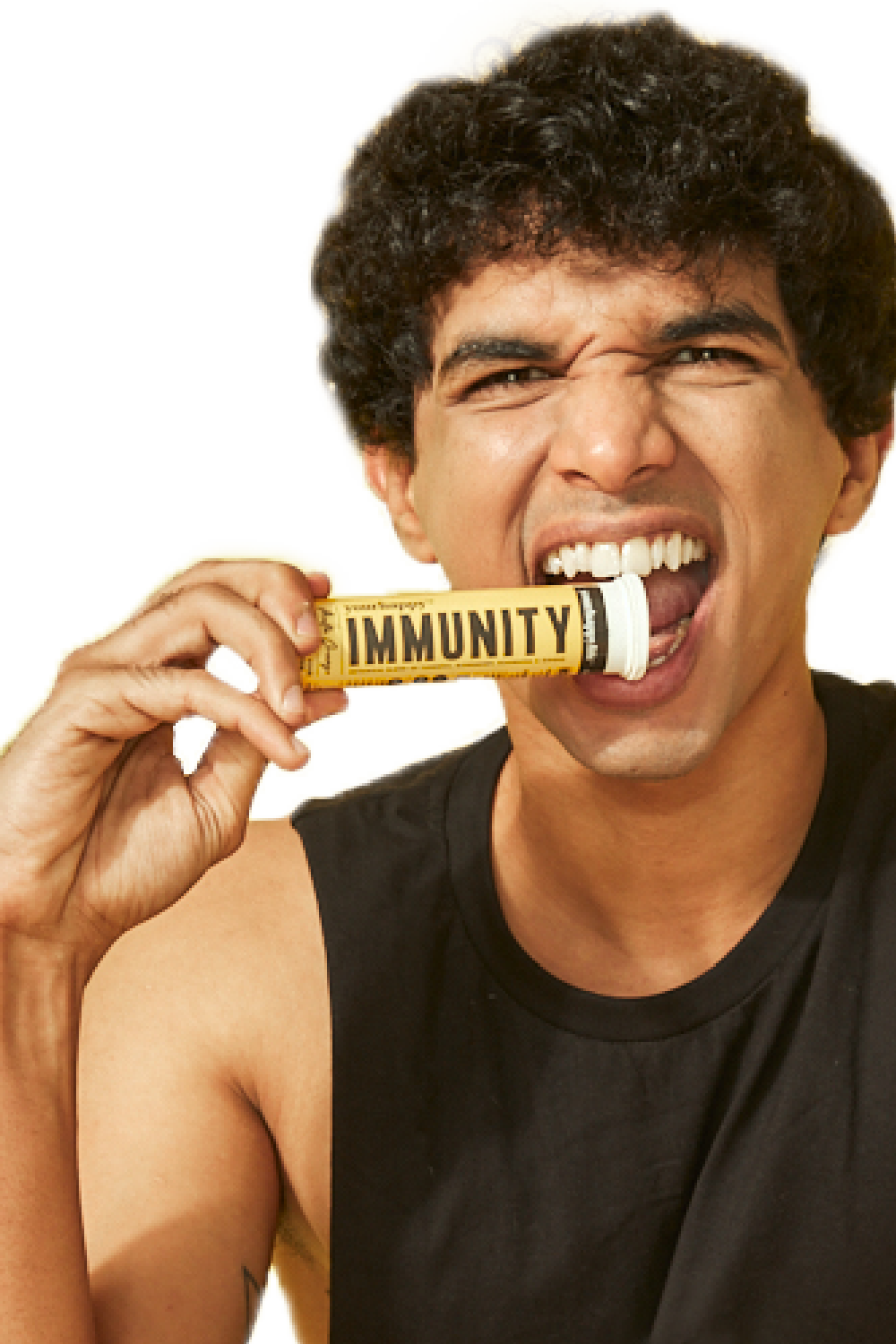 Innovative Health
Complete anti-inflammatory, antioxidant, antiviral and antibacterial properties.
Active concentrations botanical blend of Elderberry, Echinacea, Turmeric and Ginger.
100% daily requirement of essential daily Vitamins and Minerals.
Refreshing Malta orange flavour.
"Botanicals Elderberry & Echinacea in their active formats are clinically proven to reduce the symptoms of Cold, Cough & Flu ."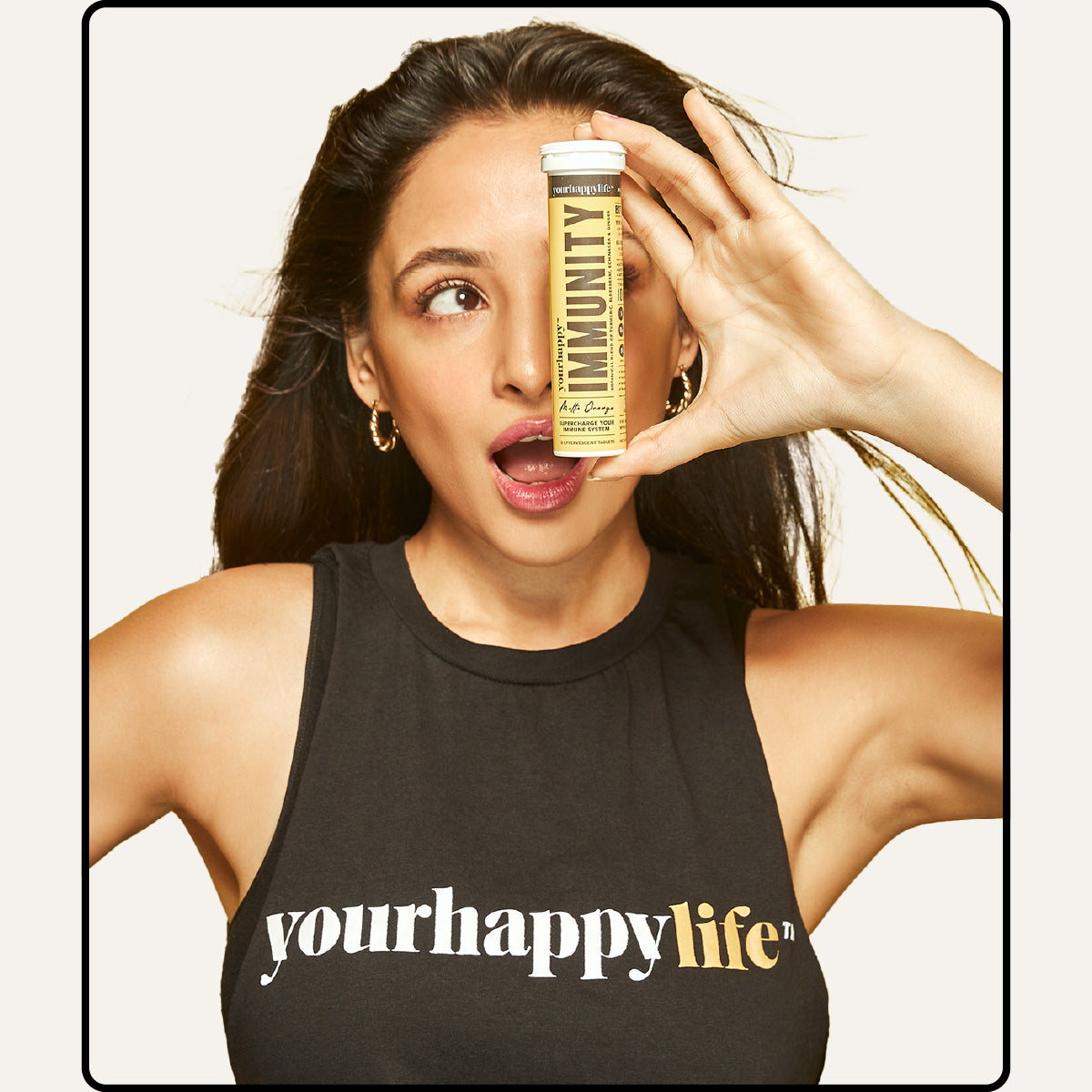 Overall Health & Wellbeing
Enhanced Vitality & Energy
Improved Memory & Focus
Protects Eyes & Long Term Vision
Reduced Risk of Illnesses
"An active compound, Curcumin (Turmeric), contains both anti-inflammatory & antioxidant properties, and has numerous health benefits."
Made With Clean Ingredients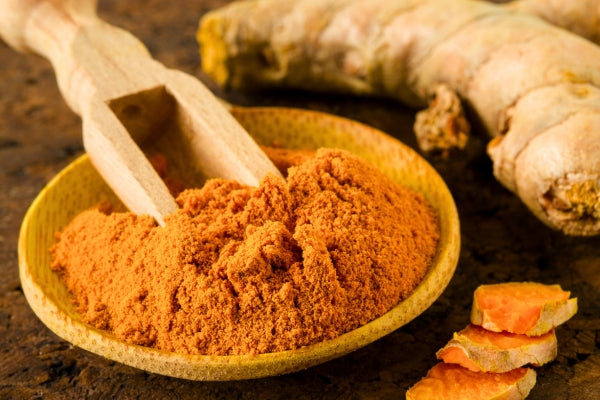 Organic Curcumin (Turmeric)
A potent anti-inflammatory and antioxidant, Curcumin enhanced with Ginger to increase bioavailability, blocks the actions of inflammatory molecules in the body to help you to heal & recover faster.
Organic Black Elderberry
Elderberry extract which is vitamin-rich and has shown to fight cold, cough and flu symptoms leads to reduced symptoms & faster recovery. With high levels of flavanols, elderberries are strong antioxidants, neutralizing harmful free radicals in your body. An age-old plant extract with potent benefits.
Organic Echinacea
 Fresh herb extract made from Echinacea purpurea is a perfect remedy for symptomatic relief of colds, influenza type infections and similar upper respiratory tract conditions. By increasing the number of white blood cells, it helps your body fight infections better.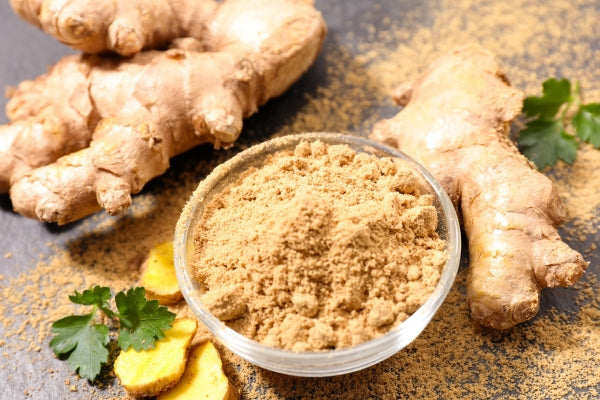 Ginger
An old guard of preventive wellness, Ginger has a multitude of medicinal properties to help boost your immune system at a cellular level, from boosting metabolism to improving digestion.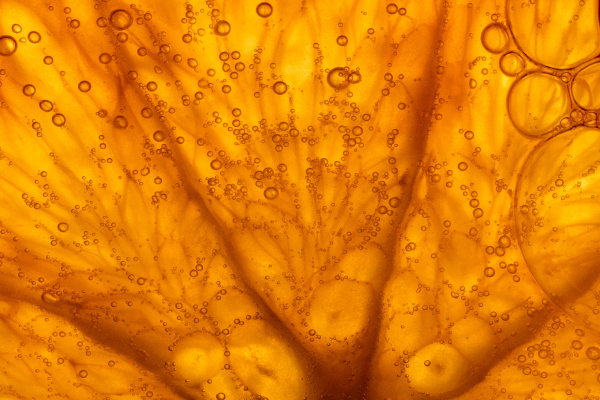 Vitamin C
A must have, Vitamin C is necessary for the growth, development and repair of all body tissues, especially the proper functioning of the immune system and recovery from illnesses..
Vitamin A
 Helps build your body's natural defenses to fight against illness & infections. Also promotes healthy growth, eye & bone health. It is essential for maintaining good vision, also known for its role in maintaining healthy skin. It supports skin cell production and repair, helps prevent dryness and flakiness, and contributes to wound healing.
Vitamins B2, B6, B9, B12
B Complex Vitamins prevent infections and promote cellular health and growth of red blood cells to have a direct impact on your energy levels and cell metabolism. For a balanced response to harmful pathogens, B Complex Vitamins such as B2, B6, B9 & B12 are essential.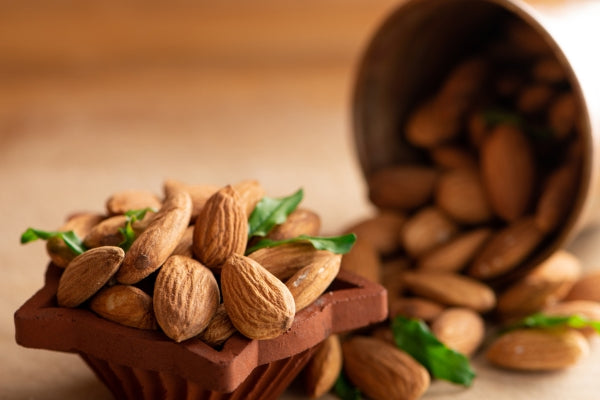 Zinc
An essential trace element, Zinc promotes the growth and development of white blood cells for your better immune system as well as normal metabolic functioning.



"I'm blown away by the effectiveness of these immunity fizz tablets. They're like a complete solution in a tube! Trust me, you won't regret giving them a try."
We got answers to your questions!
We use 100% bioavailable ingredients to make sure that it is easily absorbed by your body and delivers proven benefits. Bioavailability is a measurement of the level of absorption of the ingredient in your bloodstream.
YourHappy Immunity is a complete solution unlike other brand products. Our R&D team has worked obsessively to identify key markers for a strong immune response and created a 360* immunity product. What makes us so good? Here are a few key features:

First immunity booster supplement with a complete botanical blend combined with 100% daily requirement of vitamins and minerals to supercharge your immune system!
First Immunity supplement to have Elderberry and Echinacea, the powerful antiviral, antibacterial duo!
First Immunity supplement to have all the necessary requirements for a strong immune system - anti-inflammatory, antibacterial, antioxidant and antiviral.
Clinically Researched Ingredients - Each ingredient has thorough research behind it. We do not use low-quality ingredients in any YourHappyLife products.
Precise and Balanced Dosages for Maximum Results.
Advanced Delivery Mechanism for 98% Absorption.
Great Taste - We pride ourselves on our flavour, if it doesn't taste delicious, it doesn't go into the market. Our Malta Orange flavour is amazing - feel refreshed and ready for YourHappy day!
Our Immunity fizz is easily digested and soluble in hot and cold liquids, and 1-2 tablets a day is all you need! Simply drop a tablet into 150 ml of water, let it dissolve and drink. Yes, you can have it on a daily basis or as recommended by your healthcare professional. Pregnant or lactating women, people with medical conditions or people on chronic medication should first consult their physicians.
You can consume YourHappy Immunity tablets every day for overall health and to reduce inflammation that causes chronic diseases. It has zero side effects as it is made with botanical extracts and daily required vitamins & minerals.
Yes it is. Children above the age of 12 can consume 1 per day or as recommended by your healthcare professional.
Yes, you can use it post COVID-19 as it will help you recover faster, keep you energized, and improve mental clarity & focus.
No, we use 100% clean ingredients in all our products. In case you are allergic to some ingredients present in the supplement please consult your healthcare professional before consuming it.
Our Effervescent tablets are manufactured at a facility that is FDA, GMP, ISO 9001, ISSO 2200, HACCP, Halal, & FSSAI certified.